CERTIFICATE OF APPROVAL (COA) MANDATORY TRAINING
Our programme supports individual learners and builds literacy and numeracy skills alongside your security qualification to support you with life-long skills development. In order to gain a security licence you will need to obtain your Certificate of Approval. The Ministry of Justice requires that security guards hold these NZQA unit standards:
     •     27360 – Conflict Management (Theory)
     •     27361 – Conflict Management (Practical)
     •     27364 – Introduction to the Security Industry
(If you have completed the National Certificate in Security Level 2, 3 or 4 since 2009, then you may not need unit standard 27364.)
Certificates of Approval are processed by the PSPLA.
SECURITY CONSULTANT CERTIFICATE OF COMPETENCE (SCCC)
The NZSA endorsed Security Consultant Certificate of Competence (SCCC) introduces the role of Security Consultants and enables people who have completed the course to apply for a Certificate of Approval in that category. The course has three learning modules and five related assessment tasks.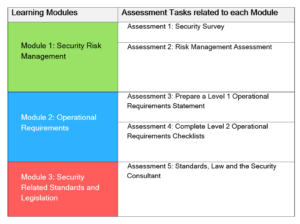 To discuss your training need needs please get in touch.